Expelled: PZ, Darwin, and Now, Jackson Pollock
UPDATED:
Richard
and
Greg
weigh in. Richard mentions me *shimmy!* and Greg has the equivalent of the
Encyclopaedia Britannica
of links about Expelledgate (including my characteristically ladylike and demure
THOSE FASCIST FUCKS THREW PZ OUT OF THE THEATRE RIGHT IN FRONT OF ME!
rant.)
I'd like to take this moment to thank those intelligent design theorists who have given me what turned out to be a shitting-bricks-but-ultimately-awesome roller coster ride.
---
Well, now Mark Mathis has backed off of the "PZ Myers was being disruptive" lie and has confessed to Denyse O'Leary – the biggest information leaker since Robert Philip Hanssen – that
the real reason
that he expelled PZ from
Expelled
was money, and his own pettiness.
You should know that I invited Michael shermer to a screening at NRB in Nashville. He came and is writing a review for scientific American. I banned pz because I want him to pay to see it. Nothing more.
Mark Mathis, did you think that this nitwit Denyse could keep a secret? No, Denyse goes and posts this admission on her blog for us to see. Thank you, Denyse. That is precisely how she
ruined the screening
of the creationist film "The Privileged Planet" at the Smithsonian, by not staying mum about how this is a stealth "documentary" for the intelligent design camp.
*We pause here for a fit of laughter*
But that's not all, folks. The story just gets better and better. The writer of the film has
weighed in
at After the Bar Closes.
As I said on my blog, as a documentary filmmaker, I'm under no obligation to be objective.
*We pause here to run to the ladies' room to laugh and, er,
expel
at the same time!*
But that's not all. It looks like Mark Mathis is
padding his audiences with his own staff
.
The film was just silly, with virtually zero scientific content, which, of course, is not surprising coming from
Ben Stein
- a comedian, speech writer and game show host . . . but not a scientist.
I'm hopeful that anyone with the least bit of intelligence (no pun intended) will see straight through the film's hokey attempts to distract viewers from the lack of scientific credibility with appeals to their emotions - like the dark lighting, foreboding music and harsh camera angles that set the scene for Stein's interview with - dun dun dun - biologist Richard Dawkins, an avowed atheist.
Or worse, the countless images and references to Nazis that culminate in Stein dopily wandering through the Dachau concentration camp pondering the ways in which the "Darwinian gospel" was a "necessary but not sufficient condition" for the atrocities that took place there.
But the real silliness came after the credits rolled, when the audience had a chance to pose questions to Mark Mathis, the film's producer.
One woman said it was morally reprehensible to equate the death of six million Jews with Darwin. I clapped, and was astounded when nearly everyone else remained silent.
I shot my hand up to ask a question. "The intelligent design movement has gone to great lengths to
argue that intelligent design is not religion, that it's science
. And you made a whole film arguing that it is religious. How do they react to that?"
"Well," Mathis said, "I guess it makes them a little uncomfortable."
Some arguing ensued concerning the scientific merits of ID, and someone asked, "Where's the evidence? Where are the peer reviewed papers?" to which Mathis proudly proclaimed, "Actually, there are ten peer reviewed papers."
A guy in the front row scoffed. "Ten papers?" he asked sarcastically.
Mathis told the guy not to interrupt, and then mockingly called him "Mr Darwinist." Zing!
He began calling on others in the crowd, who asked friendlier questions. But Maggie and I quickly realised that we'd seen some of these people before - earlier that evening, in fact, working at the movie's registration table. These friendly audience members worked for the film? Had Mathis planted questioners?
People asked what they could do to help the film succeed, and a young woman in the front row inquired: "How can I pray for you and for the movie?" Mathis grew excited. "We need to start a grass roots movement!" he said, encouraging people to tell their "networks" about the movie and to get as many people as they could to go on opening weekend.
Another man in the front row wondered about the film's premise that supporters of ID are being silenced. He pointed out that a recent trial about the teaching of intelligent design held in Dover, Pennsylvania, gave supporters of intelligent design all the time in the world to make their case, but most of the 'leading lights' of ID didn't even show up.
When Mathis was responding, the guy asked another question, and the producer shot back, "How about you let me finish talking?" Then, a security guard for the film approached the calmly seated man and told him, "I may have to ask you to leave."
"Does anyone else see how ironic this is?" the guy asked.
"Shut up!" someone shouted from the back.

Now that's what I call honesty and integrity – filling a theatre with plants who yell "Shut up!" and "Darwinist!" at anyone who asks real questions (as opposed to "How should we pray for this film's success?") at a film that purports to be about "free academic inquiry."

(Now, I thought it was bad when someone screamed, "Read Mein Kampf!" at me during the Q&A. "I have!" I yelled back. And I have. Whom do I sue to get that part of my life back? By the way - do you want me to name a little kampfing film that broadcasts the "news" of its "struggle" in the same manner as Hitler's ponderous, whining book? Do you? Can you guess?)

I saw this film, Expelled. The reviews are out there at Expelled Exposed, and despite my background as a movie critic myself I don't have much to add to what has already been insightfully articulated about this astonishingly inarticulate film.

Just let me just add this comment: If the intent of Expelled was to draw a line between Darwin and Hitler, the effect was to make a film that was as banal and inartful as Hitler's attempts to be a portrait artist. (Did you know that Hitler was a frustrated artist?) If you believe in this film and in prayer, you'd better start praying, because its specious message aside, its construction blows goats.

If the intent was for Stein to be the right-wing Michael Moore, the effect is a right-wing version of whatever ends up (mercifully) on Michael Moore's cutting room floor. Moore is a blowhard but at least someone is keeping his ego (somewhat) in check. Not so with Stein. Expelled is a mess!

Ironically enough, on Sunday I caught the tail end of a debate between atheist Frank Zindler and conservative Jew Dennis Prager. I don't care for these debates, but I had no idea who Prager was, and wanted to learn about him. Well, at the end he stood up and, like an old time fire-and-brimstone preacher started railing against little girls who play with trucks (moi?) and the "secularist, nihilist, Nazi-Communistist crap, like Jackson Pollock, that passes for art today – go to any gallery and see the effects of secular atheists on our culture! See the crap that passes for art today!" etc.

Well, I wasn't thrown out this time, either. I walked out. I stomped right out of there. I work in a museum dedicated to education, and the art world doesn't deserve to be insulted by yet another cultural ignoramus who is scandalized by Haydn. (Apparently this dork who refers to evolutionary theory as a nineteenth century throwback thinks that music reached its nadir in the eighteenth century with Mozart!)

If you don't like Pollock, or Georgia O'Keeffe, or Klimt or whoever, fine. But don't deign to make global, purportedly "objective" statements on behalf of humanity about how this stuff is "bad" or "nihilistic" or "destructive to our youth" because you won't take the time to at least understand it.

Don't tell me that "atheists can't be artists." I am an artist. Just watch me, Bub. I'm writing a poem about what you said yesterday, Dennis Prager.

Remember, Adolph Hitler also wanted to be an artist, but wasn't one – and his vision of National Socialist art was the kind of thing that conservative Christians would like to see: banal, safe, repetitive, derivative. Does anyone besides me see the irony of conservative Jews (Ben Stein, Dennis Prager, et al) echoing the statements of Joseph Goebbels in his speeches against "degenerate art" also known as "modern art?" Anyone? Anyone?

Um, Bueller?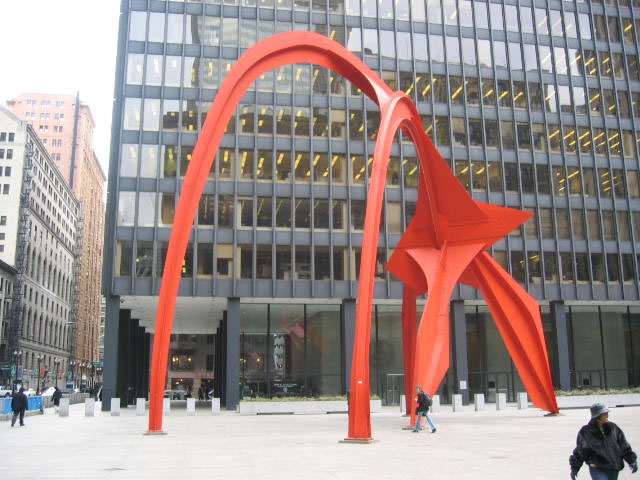 This is the Alexander Calder Flamingo sculpture at the Federal Plaza as seen in Ferris Bueller's Day Off (while Ferris sings in the parade). Ferris run! Run away from the atheist, nihilistic Calder! Think of your salvation!
Labels: "degenerate art", Alexander Calder, art, atheism, Ben Stein, Denyse O'Leary, Expelled, Jackson Pollock, Joseph Goebbels, Kevin Miller, Math Mathis, PZ Myers